Tuesday, March 15, 2022
Labouré Center Spring Reception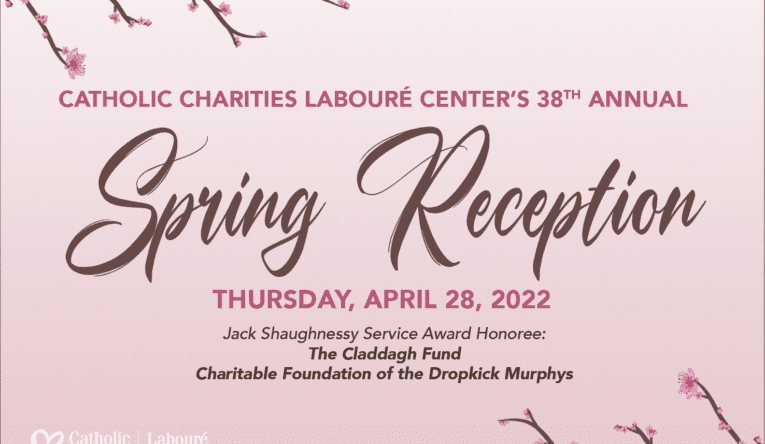 We look forward to gathering in-person again for the 38th Annual Catholic Charities Labouré Center Spring Reception on Thursday, April 28 from 5:30-8:30 p.m.
This year Labouré Center will honor The Claddagh Fund–Charitable Foundation of the Dropkick Murphys, a longtime supporter of Labouré Center's mission. Governor Charlie Baker and Michael P. Shaughnessy presenting Jack Shaughnessy Service Award to Ken Casey.
Complimentary Beverages & Hors D'oeuvres will be served.
LIVE AND SILENT AUCTION ITEMS INCLUDE
VIP Dropkick Murphys Concert Experience, March 2023 (tickets, photo & meeting with Ken Casey, DKM SWAG)
Old Rip Van Winkle Handmade 10 Year Aged Kentucky Bourbon
Fabulous Concerts: Garth Brook at Gillette including limo! Paul McCartney, Zac Brown & Bad Bunny at Fenway
Four Orchestra Row C Tickets to See "Wicked" at the Opera House
Playoff Game 2 Tickets for Celtics AND Bruins with Dinners
Red Sox Tickets & Dinner for 4–Game and Restaurant of Bidder's Choosing
Red Sox vs. Yankees tickets
Travel/Getaways: Attitash Grand Summit, Chatham, and Loon Mountain
Autographed Leotard from Olympic Gold Medalist Aly Raisman
RAFFLE DETAILS
Raffle tickets are 20 dollars a ticket, winner does not need to be present at the drawing on April 28. The three raffle prizes are a Tory Burch Kira Chevron Bag, AirPod Pros (both donated by Cedarwood Development) and Two Red Sox Tickets (donated by WB Mason). Purchase raffle tickets using the online form below.
Location
The event will be held at The Exchange, located at 212 Northern Ave, Boston, Massachusetts. Limited complimentary parking will be available courtesy of MassPort.
Ticket Information
Online ticket purchase is no longer available. Event tickets will be available at the door on April 28th. Thank you for your interest in supporting Catholic Charities Laboure Center.
Get the Latest News from CCAB