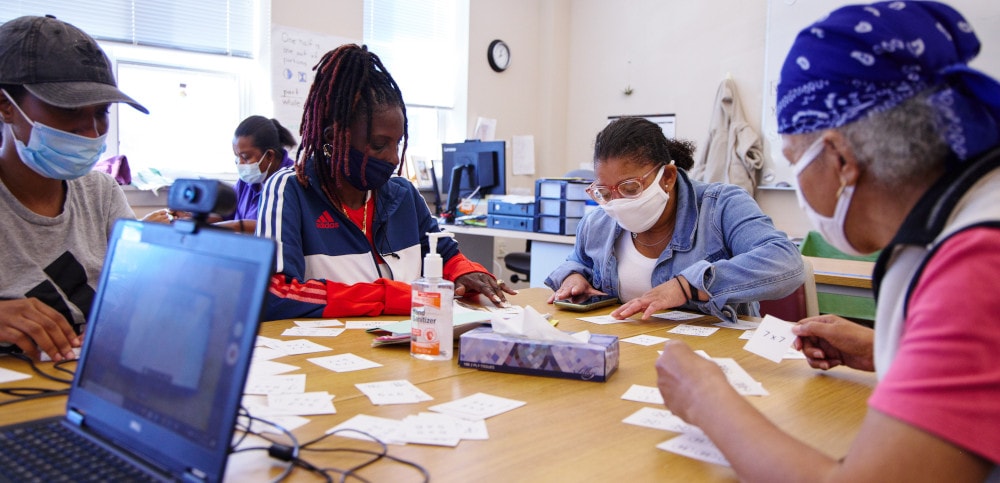 ESOL (English for Speakers of Other Languages)
Free English Classes
Mastering English can be a challenge if it is not your native language. Our classes help adult immigrants learn the language, develop comprehension in spoken and written word, and sustain motivation to advance their skills.
Open to All
The program is open to anyone who wants to learn, without restrictions on residency, immigration status, age, or language proficiency level. If you know someone looking to acquire English language skills, refer them to our programs.
Variety of Classes
We offer a range of programs to meet the needs of a diverse population of learners, including beginning to advanced courses, day and evening classes, and a session targeted to language skills for a career in human services.
Refer a Community Member
Over the years, our ESOL classes have helped thousands of people to take an important step in adjusting to life in their new home country. Help someone you know learn to read, write, and understand English.
ESOL for Human Services
Prepare for a career in human services. ESOL for Human Services is a 24-week human services training program that prepares English language learners for entry-level positions in human services agencies throughout Greater Boston.
In this program, you will develop your English speaking skills, learn the language and competencies needed for the human services field, discover the essentials of the field, and gain significant experience in personal interaction with disadvantaged populations through an internship program. Students will develop a career plan and progress on a daily basis through individual and group assignments.
Qualification Checklist:
Be an English language learner (Level 2 and up)
Possess a high school diploma from the student's country of origin or the United States, or a General Education Development diploma (GED)
Complete the program application and interview process
Submit a CORI request (background check)
Acquire a valid Massachusetts driver's permit or license by the end of the program cycle (preferred)
Obtain or possess a social security card by the end of the program cycle
Be 18 years of age or older
Working in partnership with local human services organizations, the program secures internship opportunities. Program graduates become qualified entry-level job candidates with specific knowledge of human services language and possess greater opportunity of obtaining employment.
location
Haitian Multi-Service Center Adult Education Program
Yawkey Center
185 Columbia Rd
Dorchester, MA 02121
apply
contact
For more information, call 617-506-6630.
Get the Latest News from CCAB