Teen Center at St. Peter's
The Teen Center at St. Peter's
The Catholic Charities Teen Center serves 300 adolescents living in Dorchester's Bowdoin-Geneva neighborhood after school hours and throughout the summer months. The staff, programs, and activities aim to increase teens' self-esteem while providing the tools needed for academic and personal growth as well as their success in the community.
This place made a difference in my life. A lot of kids have challenging family situations but here they feel welcome and have an opportunity to experience things they otherwise wouldn't. -Breyner Depina, Teen Center alum
About the center
A Welcoming, Supportive Space
The center serves youths aged 12-19 in grades 7-12 and is open to all backgrounds and faith. The goal of the center is to interrupt the cycle of violence by providing youth with personalized attention, academic tutoring, and personal mentoring support needed to succeed. Our dedicated staff, many who are center alumni, work with members to help them start thinking about their future plans and goals.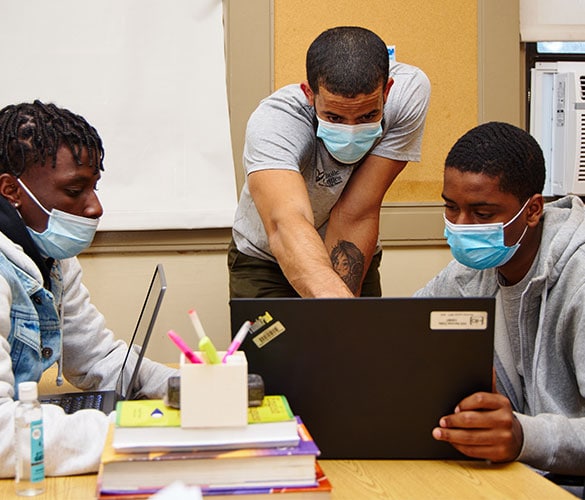 About the Center
A Mix of Study and Fun
After members receive academic and mentoring support for the day they have access to the building's recreational activities including a basketball court, workout, dance, and music rooms, and a common area with pool and foosball tables. Healthy, home-cooked meals and snacks are provided before members are safely driven home in shuttle vans each evenings. During the summer months, the center offers outings to such places like the Franklin Park zoo, ziplining adventures, and Cape Cod and Boston Harbor trips.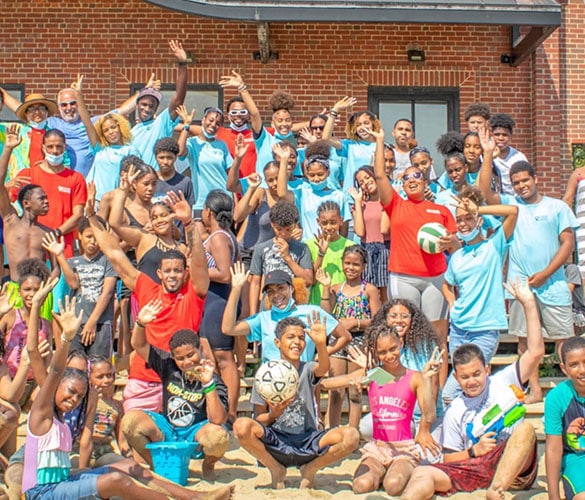 Work Opportunities
Providing Opportunities for Success
Through funding from the City of Boston's Department of Youth Engagement and Employment Successlink Program as well as the John Hancock MLK Scholarships, 45 members of Catholic Charities Teen Center at St. Peter's landed meaningful employment this summer in various areas of the Agency from food pantries to childcare, all providing invaluable life experience.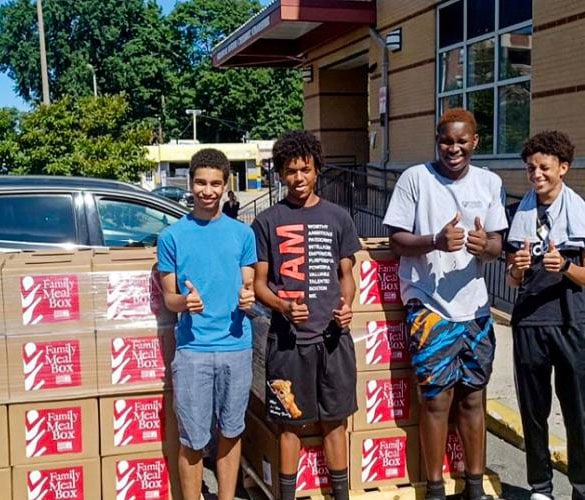 Our program is here to support kids, no matter what is happening in their lives outside of these walls.
–Joao Dos Santos, Program Director
Teen Center Hours
Fall/Winter/Spring
Monday – Friday:
2:00 p.m. – 9:00 p.m.
Summer (open seven days a week)
Monday-Friday:
8 a.m. – 4 p.m. for middle school,
4:30 – 7 p.m. for high school
Saturday:
10 a.m. – 2 p.m. for middle school,
2:30 p.m. – 6 p.m. for high school
Many parents who send their children to the teen center work during after-school and evening hours and rely on the center to provide a safe environment for their kids. Supporting the center ensures that children within the Bowdoin-Geneva neighborhoods of Dorchester have access to academic enrichment, job opportunities, healthy meals, and safe transportation to and from the center.
Contact Information
Catholic Charities Teen Center at St. Peter's
278 Bowdoin St
Dorchester, MA 02125
Contact us at 617-282-3614 for more information on how to join.
Get the Latest News from CCAB