Wednesday, April 27, 2022
5 Habits That Help Reduce Food Waste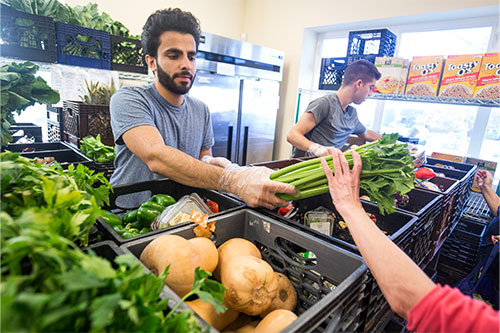 Those unused cans of chicken noodle soup in the back of your pantry may appear to be destined for the dumpster, but to someone else, they could make for a week's worth of lunch.
Every year in the United States, 108 billion pounds of food goes to waste, according to the national food rescue organization Feeding America. This means that almost 40% of all food in the country ends up in the trash.
Catholic Charities Boston's partner, Lovin' Spoonfuls, plays a critical role in reducing food insecurity among the populations we serve. Last year alone, they donated 220,842 pounds of fresh perishable food to Catholic Charities Boston's El Centro, Somerville, and Yawkey Center food pantries.
"The array of fresh produce, nutritious prepared meals, pastries, bread, and dairy products we receive from Lovin' Spoonfuls add tremendously to the bags of food we give our clients," said Beth Chambers, Vice President of Basic Needs at Catholic Charities Boston. "Those we serve rely on these donations. They understand food insecurity and don't blink an eye at an apple with a mild bruise or lettuce that is a little wilted because a knife removes a bruise and cold water freshens lettuce."
Despite the efforts of food rescue organizations, food waste is not a challenge that can be solved overnight. The good news, however, is that we each can play a part in reducing our household's waste – beginning today.
In recognition of Stop Food Waste Day, here are five habits that help reduce food waste you can adopt in day-to-day life:
Five Habits That Help Reduce Food Waste
Before going to the grocery store, check your fridge and pantry for fresh or non-expired food that needs to be used up. Consider using a tool like

SuperCook

, the mobile app and website that allows you to instantly find recipes using items you already have in stock.

If you have surplus food that is non-perishable, non-expired and has been properly stored, consider donating it to local

pantries

to help someone struggling with food insecurity. Catholic Charities Boston's five pantries across Eastern Massachusetts distribute over 3.5 million pounds of food per year––a number that has risen 102% since the pandemic began.

View our food list for the best items to donate to pantries.

Get creative and treat unused scraps of food as ingredients for your next meal. Holly Clark, Catholic Charities Boston Director of Volunteer Engagement and Outreach, said she especially enjoys turning leftover vegetables into soup and marinades when cooking for her family. "Don't throw anything away," she said. "When you're peeling vegetables and cutting off the ends, get a bag and throw any peelings, roots, and even the paper on the outside of the onion, into the pot and boil it for an hour, it's easy." Other easy ways to save unused scraps include freezing extra fruit at the end of the summer for jam or smoothies, or

preserving the remnants of your vegetable drawer through pickling.

When making your shopping list, be mindful of quantities. If you find yourself often throwing out the last three bananas of the bunch, consider buying them individually instead.
Purchase fruits and vegetables that may not appear to be in perfect condition. A bruised apple or slightly browning pear is perfectly safe to eat and buying them ensures that they don't get tossed away off the shelf.
The Bottom Line
From a global perspective, people produce more than 1.5 times the amount of food needed to stop world hunger, according to the Food and Agriculture Organization of the United Nations. The second half of the battle, however, is figuring out how to consume and distribute that food responsibly and effectively. Even the smallest actions—reflecting on food waste, avoiding overbuying, bringing food to pantries—are movements in the right direction, sowing the seeds of change.
Media and Press Inquiries Contact Us Here
Follow Us On Instagram
Get the Latest News from CCAB