Wednesday, April 6, 2022
Volunteer Feature: Cormac Gallagher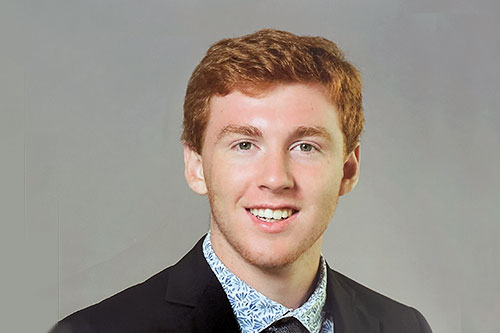 CCAB Community Champions is a series that feature volunteers, donors, and partners who have gone above and beyond to support the mission and services of Catholic Charities Boston.

As a proud and competitive member of his high school lacrosse team, Cormac is a firm believer in the power of teamwork. It wasn't until he was seeking community service hours during his junior year at St. Sebastian's that he discovered he could channel this passion into helping others as well.
Cormac began volunteering with Catholic Charities during the start of the pandemic, a time when many families were in great need. Working with a small group of volunteers, Cormac helped to carry cases of food out of the storage trailers, pack bags with non-perishable items and transport them to clients' cars. Beth Chambers, Vice President of Basic Needs at Catholic Charities shared, "Cormac came to do service hours and although he was finished a few Saturdays later, he kept coming back on his own. When Cormac walks in, all the volunteers enthusiastically yell his name. He can lift cases of food at a time while others lift one. When he jumped into this effort, he jumped in all the way."
Read more in Cormac's own words how he got involved with Catholic Charities and his favorite aspects of volunteering:
Name: Cormac Gallagher
School/Program: St. Sebastian's High School, Needham, Massachusetts
Volunteer Area: Food Pantry/Basic Needs
From High School Service Hours to Weekly Tradition
I started volunteering at Catholic Charities during my junior year of high school. Mr. Albertson, the moderator of my school's National Honor Society, had sent out an email asking if any members would like to volunteer. A couple of my friends and I decided to try it and really enjoyed helping out. I have gone back most Saturdays since then.

Favorite Aspects of Volunteering
I really enjoy the teamwork and seeing how much we accomplish as a group each Saturday morning. We spend a lot of time sorting and packing food, and we work really well together. My other favorite aspect of volunteering is meeting and getting to know new volunteers. We share a lot of stories while we volunteer, so we get to know each other pretty well.
Favorite Memories
My sister needed to earn community service hours to receive confirmation. I offered to bring her with me one Saturday morning. When I was introducing her to everyone and showing her what to do, I realized how much volunteering at Catholic Charities really means to me. She has gone a few more times because it really is an awesome group of people and a rewarding way to spend a Saturday morning.
Activities Outside of Catholic Charities
I play lacrosse at St. Sebastian's, and it's been the best team experience I have ever had. They are an incredible group of guys, and I love going to practice every day. I also love being a part of our school's fan section, "Henry's Corner." We show up in full force to support all our teams, and it's always a great time watching our St. Sebastian's Arrows compete and win.
Plans Post-Graduation
I plan to attend Villanova University after graduating in June.
Final Words
Volunteering at Catholic Charities started as something to do with friends. However, as I continued to participate, I realized that I was gaining more than I was giving. I sincerely enjoy volunteering itself, but more importantly, I really respect and feel privileged to work with Catholic Charities' volunteer coordinators and other volunteers. They make me want to continue coming back every Saturday morning. I am also motivated by the families we help, and it has become very real to me that a little help can go a long way. It is very fulfilling to play a small part in helping my community.
Media and Press Inquiries Contact Us Here
Follow Us On Instagram
Get the Latest News from CCAB