Monday, May 16, 2022
Volunteer Feature: Anna Adams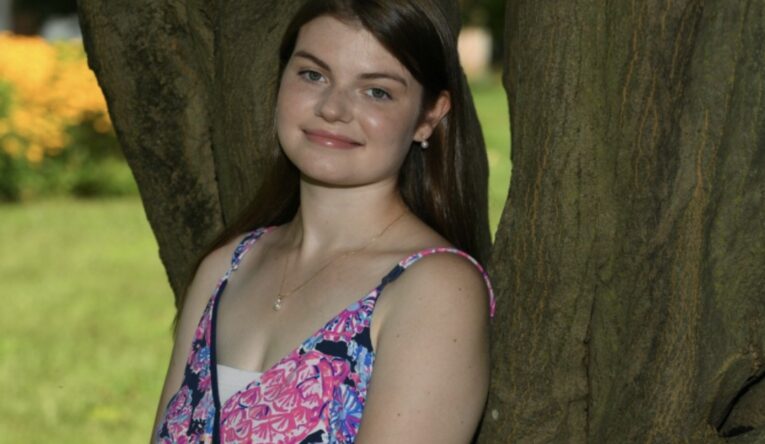 CCAB Community Champions is a series that features volunteers, donors, and partners who have gone above and beyond to support the mission and services of Catholic Charities Boston.
Anna Adams first discovered Catholic Charities Boston when she came across a flyer on her church's bulletin board, calling for food bank volunteers. Four years later, she would find herself at Catholic Charities Boston's annual Thanksgiving event, standing in a cardboard box that was taller than her, reaching over the edge to pass pre-packaged Thanksgiving meals off to her classmates. Now, a senior and the Community Service Coordinator at Mt. Alvernia High School, Anna laughs when she recalls this, noting that her fellow volunteers had to jump in the back of a big truck to pull her out.
It is just one of the many meaningful memories Anna said she made while volunteering with Catholic Charities Boston.
"Anna saw there was a need and immediately jumped in to help when given the opportunity," said Beth Chambers, the Vice President of Basic Needs at Catholic Charities. "She always brings more volunteers with her wherever she goes, whether it is packing boxes with candy for children at Easter and Halloween, or distributing turkeys for thanksgiving. It has been a joy to work with Anna throughout her high school years."
Read more in Anna's own words how she got involved with Catholic Charities Boston and her favorite aspects of volunteering:
Name: Anna Adams
School/Program: Mt. Alvernia High School, Newton, Massachusetts
Volunteer Area: Basic Needs
New Family Traditions
My family and I are members of Saint Cecilia's Parish in Boston. We saw on the bulletin that Catholic Charities was looking for drivers to pick up food from Boston grocery stores and deliver it to their food bank in the morning. My mom and I decided to get involved in doing that. And when we were dropping stuff off at the food bank, we saw all these people packing boxes and bags, and they were all really eager to talk about the great work that Catholic Charities does. And so, we learned more about it, and we learned about the daycare at Catholic Charities and my mom and I brainstormed a bit. We decided a cute idea would be to make holiday boxes for Catholic Charities' daycares just to make the kids' holiday a little bit more special.
Sharing her Passion with Others
As I've gotten older, I've become the community service coordinator at my school, and so I've been able to bring more of the other students from Mt. Alvernia and get them involved. We make the holiday boxes at my school for pretty much every holiday. We bring in toys and snacks and the boxes, and the girls kind of line up and pack them all and then we drop them off at the food bank.
Favorite Aspect of Volunteering with Catholic Charities
I think the people at Catholic Church are just awesome. From that very first day when the volunteers we met were so excited to talk about the mission of Catholic Charities, you can tell that it's a group of people who really care about the community that they're working with. It's also a really direct way to impact the community and just a good opportunity to get outside of your comfort zone.
Plans Post-Graduation
I will be attending Emmanuel College in the fall, where I will be studying nursing.
Other Hobbies
I've played on the soccer team for the last six years. I'm also a member of a couple clubs, but my favorite thing to be involved in is campus ministry at my school, which has gone hand in hand with my involvement in the Hungry and Homeless Ministry at Cecilia's Parish. It's an organization that brings people together who are looking to get involved in the homeless or impoverished communities in the Greater Boston area. Through that, I've had a chance to work at amazing organizations like Catholic Charities, the Pine Street Inn and the Women's Lunch Place. I've been able to go out and experience these things and then bring it back to my community and get others involved.
Media and Press Inquiries Contact Us Here
Follow Us On Instagram
Get the Latest News from CCAB