Monday, January 24, 2022
Four Ways to Encourage Young Children to Wear Masks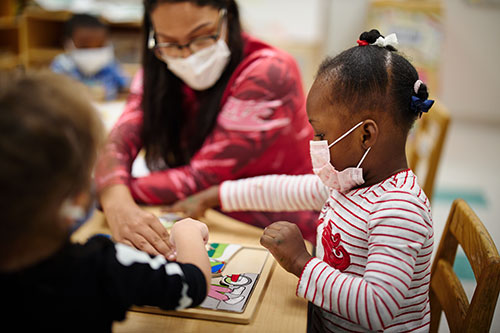 The recent surge of cases from the highly infectious omicron variant of COVID-19 has many parents wondering what they can do to protect their families, and child care programs evaluating their health and safety protocols.
"Our goal at Catholic Charities is to keep children in care as often and consistently as possible," says Janet MacDougall, Vice President of Family & Youth Services at Catholic Charities of Boston.
To do that, Catholic Charities' child care programs have implemented multiple strategies to minimize exposure, including upgrading to KN95 masks for staff and requiring age-appropriate children and their parents to wear a mask per CDC recommendations prior to entering a program.
Tips for Encouraging Your Child to Wear a Mask
If your children are finding it difficult to wear a mask, they are not alone. It's common for children to fear change or be uncomfortable with new routines. Here are four ways to make wearing a mask easier for your child:
Let them choose the mask design. Does your child love Disney, Paw Patrol, or Sesame Street? Letting them pick a mask in a favorite color or with a recognizable children's character can make it a bit more exciting. As for what type of mask children should use, MacDougall suggests a medical-grade mask designed for children that fits your child's face securely, feels comfortable, and allows them to breathe easily.
Keep It Simple. Use clear, simple words when explaining masks to your child, especially for children on the younger side (aged 2-3). Using positive language, such as, "we wear masks to keep us and others safe" or "masks protect people" can help children who may feel scared.
Practice Makes Progress. Don't give up if your child is initially reluctant to wear a mask. Practicing at home for a few minutes a day when your child is calm and relaxed can help them feel more comfortable when the time comes to wear a mask in public. Practicing first with a stuffed animal or toy can show your child that there's nothing to worry about. "Children like repetition, it helps them learn what to expect and creates a predictable environment that feels safe," says MacDougall. It also helps when children consistently see caregivers wear masks as well. "When children see their teachers, family, and friends wear masks, it becomes more normal," MacDougall says.
Reward Success. Positive encouragement goes a long way with little ones. Offering a small reward like a sticker, little treats, or praise when your child can wear their mask for a short period of time can help the behavior become routine.
The Bottom Line
While wearing a mask may be difficult at first for young children, it's one of the best tools child care providers have for keeping their classrooms healthy and for minimizing exposure to children, staff, and the greater community.
Catholic Charities of Boston serves a culturally diverse population of over 1,100 infants, toddlers, preschool, kindergarten, and school-age children each year in its Family & Youth Services Division. To learn more about our child care services please visit us here.
Media and Press Inquiries Contact Us Here
Follow Us On Instagram
Get the Latest News from CCAB